27-Hole Championship Golf Course Designed by Arthur Hills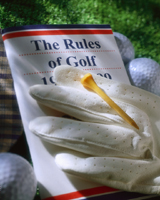 The River Strand golf experience will be everything you've come to expect in playing a modern golf course. River Strand features Arthur Hill's trademark generous fairways and precision approach shots.

River Strand Golf Course provides a challenge to the low handicapper, yet the high handicapper will enjoy it too! All the while, you're playing in a gorgeous, natural setting with palm trees, live oaks designed by Mr. Hills himself, and a nice mix of river holes.

Play 9… play 18 … play 27! We'll rotate the 9 for those choosing to play 18 so that you always have a fresh, manicured, challenging round to look forward to.

The golf course fits harmoniously with the environment, with holes intertwined by tributaries and estuaries. The Manatee River and its tidal water areas are incorporated into several of the holes, making the course a remarkable and memorable experience. The course is meticulously maintained and features Tif-eagle greens that are mowed with a walk mower to insure pristine conditions.

You will also enjoy the use of a snack bar located between the 9th and 10th holes, in addition to our complete clubhouse dining facilities.

For more information or to book a tee time call us at (941) 708-3617.
---

  GOLF SHOP HOURS:
EVERY DAY: 6:00 am-5:30 pm
Phone: 941-708-3617